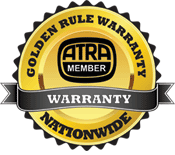 The Golden Rule Warranty is a nationwide inter-shop warranty program for ATRA Rebuilder Members to offer warranties to the motoring public. By selecting to be an ATRA Rebuilder Member shop, you may issue warranties to your customers to give them peace of mind for the work done knowing it will be covered across the nation with the assistance of other ATRA Rebuilder Members.
To locate an ATRA Member shop that participates in our warranty program, use our Shop Finder feature.
The following warranty information is available for ATRA Rebuilder Members. Also listed below are local limited warranty and extended term warranty options to enhance your shop warranty options.
As of January 1, 2020, ATRA Rebuilder members may issue a Golden Rule warranty on remanufactured transmissions purchased by a qualified ATRA remanufacturer. The following is a list of qualified remanufactures. When using one of these remanufacturers please enter their REM-Code on the warranty form.
For questions or additional information call ATRA Membership services at (805) 604-2000 for assistance with the Golden Rule Warranty Program.